Jockey Club CarbonCare Open Innovation Lab Zero Carbon Pitch (Cycle 4‧2019) Open Groups Recruitment
Date:
7th September 2019 (Sat) 10:00am - 6:00pm
Venue:
InnoCentre
Fee:
Free
Speakers:
/
Language:
English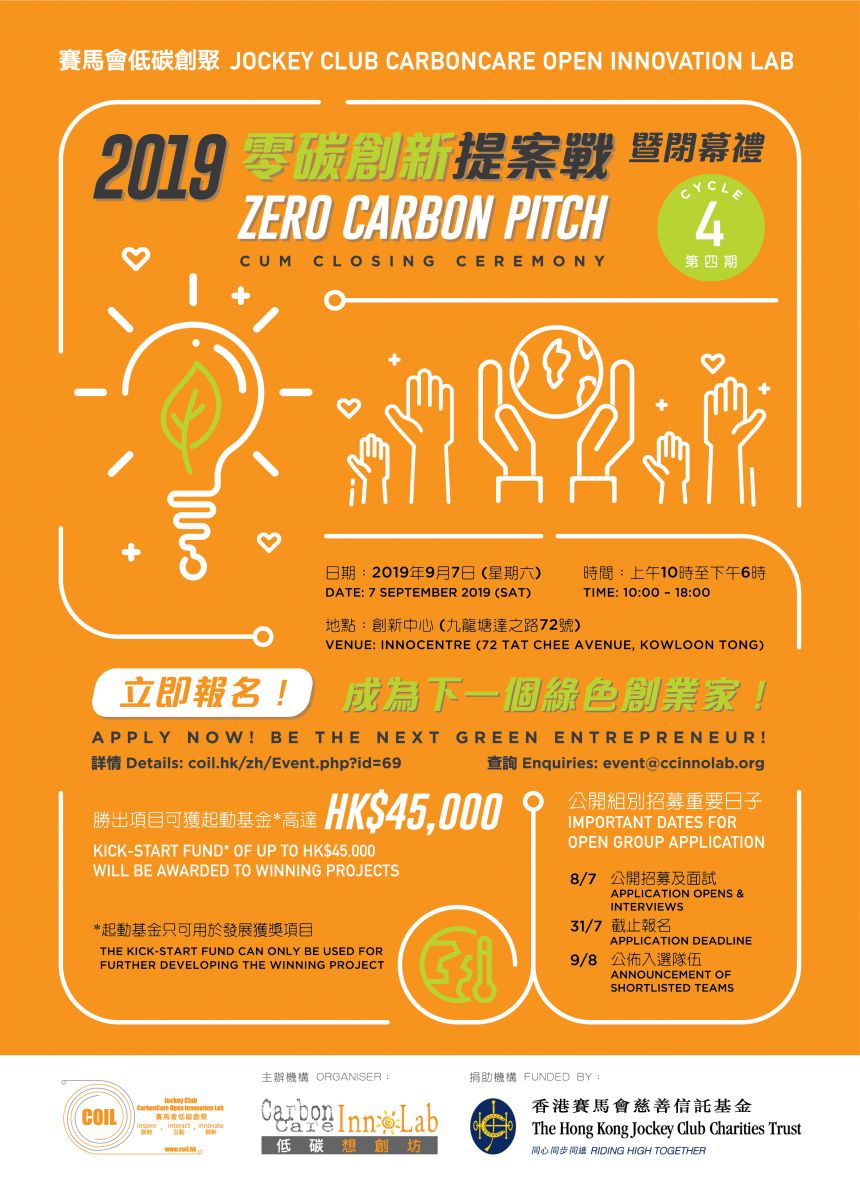 Introduction
CarbonCare InnoLab recently released the first Climate Report Card which rates Hong Kong's performance in all the critical areas of climate action outlined in the Paris Agreement, including mitigation, adaptation and systems. Hong Kong was given a C-, which shows the unsatisfactory performance of the city's climate action. Clearly Hong Kong needs to raise its game to reduce the city's carbon footprint, especially through innovative solutions to address climate change and sustainability challenges.
For the past four years, Zero Carbon Pitch organised by Jockey Club CarbonCare Open Innovation Lab (JC COIL) has offered a platform for innovative low-carbon ideas to grow into feasible plans that contribute to climate actions in Hong Kong.
Join the Zero Carbon Pitch to unleash your innovative potentials and pursue your zero-carbon dream. You can be the next green entrepreneur to make the world a more sustainable place!
Event Details
The Zero Carbon Pitch will offer awards to two categories of teams - InnoTeams nurtured by Jockey Club CarbonCare Innovation Lab, and teams recruited from an Open Group category. Members of the public with zero-carbon innovative solutions are welcomed to form teams to pitch for the kick-start fund.
Recruitment Timeline
| | |
| --- | --- |
| 8th July | Application opens & interviews |
| 31st July (by 11:59pm) | Application deadline |
| 9th August | Announcement of shortlisted teams |
Application Method
Interested parties please fill in the application form and email it to gigi.lam@ccinnolab.org by 11:59pm on 31st July. Please call 3568 2244 for any queries.
Click Here to Download the Application Form

Zero Carbon Pitch
The Zero Carbon Pitch will be held on 7th September. Teams from the two categories, InnoTeams and Open Groups, will pitch their plans and ideas to a multi-sector judging panel to win the funding awards.
Date: 7th September 2019 (Saturday)
Time: 10am - 6pm
Venue: InnoCentre
Address: 72 Tat Chee Avenue, Kowloon Tong (Kowloon Tong MTR station Exit C1, map)
Funding Awards
| | |
| --- | --- |
| Best of InnoTeam Award | HK$50,000 |
| Best of Open Group Award | HK$40,000 |
| Best Climate Innovation Award | HK$20,000 |
| Audience Popularity Award | HK$5,000 |

Remarks: All sums awarded are to be used ONLY for the development of the winning project. Teams winning the awards must present record of all relevant expenses to prove their usage of the fund.
Judging Criteria
| | |
| --- | --- |
| Criterion 1 | Climate-focused |
| Criterion 2 | Innovative |
| Criterion 3 | High-impact |
| Criterion 4 | Financially sustainable |

Registration for public audience will start in August. Stay tuned!

Please find the application procedures above
Join This Event